Commissioner Pat O'Connell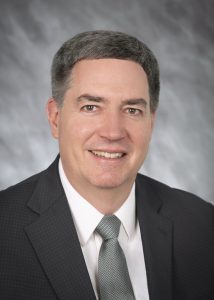 Pat O'Connell
Chair | Commissioner
P.O. Box 1269
Santa Fe, New Mexico 87504
Personal Background
Patrick O'Connell, PE, was appointed to a six-year term by Governor Michelle Lujan Grisham and is one of the three commissioners appointed to replace the five elected commissioners on January 1, 2023. In addition to serving as the chair of the Commission, Pat is the Secretary/Treasurer of the Western Conference of Public Service Commissioners, New Mexico's voting member of the Southwest Power Pool's Regional State Committee and sits on the Committee on Regional Electric Power Cooperation and the National Association of Regulatory Commissioners Energy Resources and the Environment Committee. 
Pat brings to the Commission experience developing and implementing strategies to maintain reliable and reasonably priced water, natural gas, and electricity to utility customers throughout New Mexico. This work has included the engineering disciplines of planning and design and the regulatory experience gained through providing expert witness testimony.   He has worked as a consulting engineer, an employee of Sangre de Cristo Water, and the Public Service Company of New Mexico in both the gas (now New Mexico Gas Company) and electric utilities.  After a career working in utilities and prior to joining the NMPRC, Pat led the Clean Energy program at Western Resource Advocates.
A native and current resident of Albuquerque, Pat has lived most of his life in New Mexico. He graduated magna cum laude from the University of New Mexico in 1990 with a degree in Civil Engineering and is a registered professional engineer in the state of New Mexico. 
Education
UNIVERSITY OF NEW MEXICO
Bachelor of Science in Civil Engineering